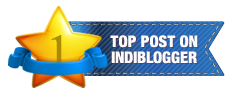 I have always believed in these words (somewhat altered) that -
'
Its better to hear the Bulbul sing then the mouse squeak'
So, I picked this book because its title invites me to experience some thing about life on a House Boat!and I am dying to live on a House Boat from the longest time...(still longing..) but if you think that the book had satiated my longing of life on a house boat then NOTHING of this sort has happened .It had only increased the want and had made me more miserable !
So I am going to do what I am here to do and be done with it that is to write ... And you read about it only ON YOUR OWN RISK as it has the capacity to entice the wanderer in you and summer vacations being just around the corner.. chances are you are gonna find yourself in deep waters...er.. smooth sails.
The children on the awesome House Boat 'Blue-Bird'
Now for the story - Its a simple tale of two sets of Bobbsey twins who along with their two cousins, parents, their loyal cook Dianh and the Captain of the boat are sailing through their vacations on an awesome House Boat. How they came to acquire the houseboat along with the Captain Mc Ginty is in itself an interesting incident.
The description of the children and their different nature makes for an interesting read.
The story revolves around their trip and the adventures , some mishaps and surprises they had during it including t
he plethora of people they got acquainted with and a pleasant discovery they made only at the end.
Amidst all this fun, frolic and adventure the book also involves a tribal tale, a well preserved secret of the tribe, dancing ghosts and a hidden
treasure of the Indian tribe....
"The children saw their pet SNAP emerging on the top of the fall !!! A secret hide way"
So by the end of the trip we all are VERY happy with cheeks burning with excitement ,eyes flashing with adventure and heart beating fast as a result of a good deed done and finding new friends.
All in all a good book for young people to urge them to go and explore the land....to look outside and be happy .
Happy Reading.