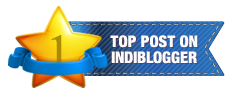 'The Hog Music' is a book written for young readers
offering them much - to read, understand and imagine.
The book tells the story
of a parcel sent to
Lucy by her Great Aunt Liza
after Lucy's parents shifted west for a new life in Illinois . Aunt Liza refused to go with them and stayed back. Now its Lucy's Birthday and she had send a plain hat in a wooden box via a mail-coach.
From here the adventure of the box begins ....... and with each incident one thing or the other is added to the box making it rich and sort of mysterious.
The box fell down...
Its route and the fate of Aunt Liza's gift became unpredictable and this adds the element of mystery to the simple tale.
The box again met an accident !
The box passed many hands before reaching to its intended destination and received a souvenir from each of its courier.
The box passes through unusual hands.
This made its content fascinating and on opening it
Lucy was utterly flummoxed on receiving such a diverse and unusual collection from Aunt Liza!!
She wrote a 'Thank You' note to Aunt Liza and found out that the best gift she had yet to receive. Happy Birthday Lucy!
The book is a beautifully written simple tale of old roads and their travel experience woven together with human elements of honesty, humility and care.
It is done
with a rustic
The Author
charm .The author's inspiration for this story was from the le
tters of people describing their travelling experience on the National Public Road.
The illustrations definitely MADE the book, lending the jaunty rustic touch and the 18th-19th century look to the characters and all this while having a funny element in the drawings....... Be it the loud splash! or the group of men sleeping in a row after heavy dancing.... all are fine, nuanced, jaunty and funny.
I have posted only a few as not to spoil your experience and I think these are enough to see the beautiful backgrounds, blueness of the night sky and the
white foamy splash in the river.
HAPPY READING