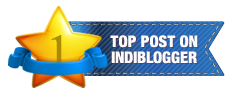 It's not a pic which I should post on social network as it's not
bright, nor is any of the person involved are smiling, looking particularly attractive or beautifully dressed. F
ar from it, its a night time click when you slowly but surely slip into a deep slumber too tired to take heed of your surroundings.
And, both the protagonists are tightly packed against the Dehradun
winters without any importance to aesthetics.
Still the pic is here just to show the look a 7 month old baby gives when she finds that the dominating and boisterous giant of a man called father, that too, a loving papa, first, wraps and disguises a bollywood song as a lullaby and then, sleeps after 4 lines! Arghh...
May be she is wondering "what's more in store MOM?"