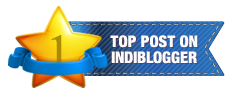 Book : Dakota Warrior (The Story Of J.R. Weddell)
Author : Gloria Mattioni with Daniele Bolelli
Genre`: Biographical
First Published By : Sensibili Alle Foglie in 1995
This edition : After 2013
Ratings : NA (?)
The books is my first review of a non-fiction biographical work.
And I am starting with a person who belonged to a proud tribe of hunters and warriors-the Yankton Sioux tribe from South Dakota America, a tribe who hunted and prayed for the buffalo ,who believed in the power of Wankan Tanka, the energy of the Universe and in a God Tunkashila ,whose rituals include the Sun Dance and the Ghost dance and who consider Eagle as the most sacred of all animals!
So, I can certainly
Not
review it.Only speak about it - its warrior.
And this is not only about but is written by a warrior as well, a white woman defending goodness and honesty with courage,fortitude and recklessness of a true Indian warrior!
So its two warriors!
What's In it
Its about
James R. Weddell,
a Yankton Sioux native who in 1986 had been charged with a crime he didn't commit and sent to prison with an eighty-years sentence.
He spent 16 years in prison and 2 years on run, was featured in
America's Most Wanted
and had a bounty on his head.All this because he was a minority caught in the web of the racist face of America which the world never knew about.
The book if you ask is simply an in depth narration of the above four lines.
What makes it compelling is, each alphabet of the above four lines is drenched in repressed feelings of disarrayed youth,wastage of precious blood and lives, hurt pride and helplessness, a burning shame for weaknesses of fellow tribesmen and a kindling desire for justice for one's tribe... drama and turmoil enough for four lives!
It deals with Weddell's
hard and seemingly hopeless struggle to find
justice,his misadventures with law,the apathy of family n friends in time of his need,his resilience and despite all, his faith in wakan, the Great Spirit.
The hatred he and his tribe has to bear from authorities and people in higher positions just because of his tribe being Natives....
The deceit done to them by the Government regarding Paha Sapa, their sacred land...
The shame and humiliation he felt as his simple and needy people gave in to temptation..
The weakness which he, a proud warrior, had to witness seeping in the blood and soul of his people... all this was enough to make him furious, miserable and erratic but he remained unbroken,unbent, forgiving and helping.
Then through divine intervention he received help from unlikely quarters in form of the author Gloria and friends from across the oceans who, after reading about him started a movement in form of a steady torrent of letters and faxes forcing the State machinery to give him a fair trial resulting in his victory against the Goliath of racism and corruption and walking free after 18 years of harrowing darkness.
Gloria with James on the
day
he walked free:Source
The electronic edition
which I received has an additional chapter on the history of struggle for the Black Hills by
Daniele Bolelli
which was insightful for making me understand t
h
e nuances of the matter as well as helped in establishing a better connect with the plight of Wmaka Og'naka Icante,the sacred land of Weddell and his tribe.
VERDICT :
Go For It.
The book makes a compelling read as despite the torture,cruelty and injustice the dominant feeling through out the narrative is compassion and gratitude!
The deer guiding him out of the prison, the dream and visions, the dance and whistles of the mocking bird was the signary of a divine language....
my eyes were full of tears and heart of an inexplicable warmth.All I could muster was wishing James,the Wanblee Ista peace.May his courage finds place in hearts of generations to come.
It also explains my filling the rating of the book as NA (not applicable) as its the life and blood of a brave warrior and courage can neither be rated nor reviewed!!
A personal connection
I am forever indebted to Gloria for choosing me to review this book and thus, providing me an opportunity to experience the power of faith,courage and hope in the deepest darkness.
A firm believer in the philosophy of Karma, I feel this reading as an omen,for me to stay unchanged, unbent in my life as I deal with my own demons.It has been send to me at this time of my life when I desperately need an anchor,a wakan to help me out...
.... and I can see the mocking bird dancing!