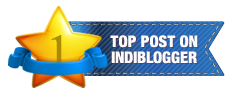 Book : The Monochrome Madonna
Author : Kalpana Swaminathan
Genre` : Detective Fiction
Published by : Penguin India
Year : 2010
Cover : Bland
The book promises to be a brisk thriller of deceit and intrigue with Lalli , the detective, at her most astute as she interprets the nuances of a murder without motive.
...and, it turns out to be anything but brisk!
What started off as a promising story with Raphael's Madonna as an interwoven theme with a puzzling hint, ended completely damp and unfaithful to its title and the opening lines.
The Plot
Sitara called Lalli's niece Sita whispering "I think I am going to die"... Sita rushed to Sitara's aid only to found a burly stranger sprawled on Sitara's dining room floor with blood oozing from his head. Sitara was drugged and hazy, her wimpy husband at office and Lalli out of station.Now it's up to Sita to observe the scene and make the most of this mystery.
The development is too
elaborate, maddeningly tangled and twisted and, the solution is not at all satisfying.
CHARACTERS
Sitara's character is way too quirky with a twisted psyche. It's not that such people don't exist but she was neither believable, nor understandable. If readers
can believe in beautiful witches flying on pine branches,then Sitara is just another lady-next-door. So, a little more effort from the author's part could have turned her character as a layered and rich one instead of a confusing and tangled mass of idiosyncrasies.
Besides Sitara, Lalli and Sita, Vinay(Sitara's husband), Savio (Lalli's partner), Ramona (Lalli's friend)Parikshit (Ramona's boyfriend) , the victim (Sanat Verma)............are aimless people sleep-walking in and out of chapters
with Lalli the smartest, knowing the culprit right away from the start aka Miss Marple style (who is 100 times better) and keeping it till end aka Hercule Poirot style. (eyes rolling)
Writing Style
Ms.Swaminathan has a flair for words,razor sharp and nuanced. An example -
"I would have said mean but cruel would do'.
'Are you sure?" There's more here then semantics.Meanness provokes contempt.Cruelty baffles.Which was it?"
A
ND
"Rashmi had a grudging note of admiration in her voice when she spoke about him. It was admiration, not tenderness. There was no sentiment, no memory of a shared life in Rashmi's manner or in her words. Her admiration for him was purely- intellectual. "
The chapter about the roses of Sita's parents is bee..autiful but hinders the story. The writer has a graceful and lyrical style of writing making prose flow like poetry balmy, velvety and soft. It has an ephemeral quality to it.
Despite having many blissful moments as some one who gobbles words, I found the narration tedious and confusing at places.
THE Let-Downs SUMMED UP-
1. No plot at all - Ought to be more structured and tight.
2.Tedious Narration - length does not matters if we like what we read.
3.Sitara too quirky : L
alli too smart- which she certainly is not.
5.The Monochrome Madonna - I rue and cry for the wastage of it. Either I am still in dark and have not grasped something too cerebrally and hence slippery for me, or the Madonna provided no clue other then Sitara's stone face and heart.
VERDICT
Read if you wish to experience a kaleidoscope of words, phrases and ideas.
But remember the dominating colour will be monochrome. Ouch!