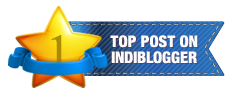 Book :Our Children (Hamare Balak-Balikayen)
Author : Flora H. Williams
Genre`: Non-Fiction
Published by : Oriental Watchman Publishing House, Poona(Pune)
Year : 1946
Its one of the oldest books from my childhood which was sold to my mother by my SDA Mission School.(Refer to the old post about my school here) I clearly remember the day when I woke up from my siesta only to found two of the most fearsome teachers (fearful because they taught the senior classes) along with our hindi teacher,Mrs Tyagi who was only a disciplinarian in comparison, sitting on the edge of my cot .I got a jolt. Anybody would.
Despite being a rank holder and an almost perfect child, seeing Mission School teachers or any kind of teachers in your house was alarming and offers nothing to be pleased about.
I stealthily opened my eyes ,just a chink, to gauge what was going on.By the tea-cups and cookies on the wooden table, it did not seemed like a chaapa(a raid they sometimes performed appearing at naughty student's doors un-announced) and had it been something bad, I would have not been lying snuggled in the sheet (My mother never differentiated between boys and girls... and I know quite well how it feels when thapki,the cloth washing bat lands on your bums!) behind their backs, while they munched on home-fried chips and daal-moth and chatted with my mother.
Relieved, I sat up and greeted them. Mrs. Tyagi fondly put her arm around me and uttered some words in my praise! If only she would know what I was thinking two seconds back.But it was not about her. She was a great teacher and now I know her to be a strong and hard working woman.A good person.
Well,they were at my home to sell some books and collect money for charity and mother had bought two books out of which, one we have here to talk about.
The book is like a modern day guide to parenting as well as for teachers to help them understand the nuances of a child's psyche. And like all good books, its relevant and useful even today.
The first chapter is 'Obedience' paving way fro other virtues which are almost non-existent today.It treats the topic objectively by defining and describing it, explaining the early symptoms of stubbornness,the reasons for non-obedience and then, its solutions. The best part is after each topic,related short stories are provided like for the Obedience the two relevant stories are 'Eleventh Time' and 'A Matter Of Life and Death' While the latter has animals as characters for the story,the Eleventh Time deals with a naughty boy Ajeet.
Ajeet,received a new, shiny bicycle as a birthday gift. His house was on a hill and his father warned him against riding the bicycle down the hill as it was too steep.He started riding around and near his house.
While riding past his home, Ajeet avoided his father as it has become late. His father called him but he pretended as if he had not heard . After 10 rounds father stepped out and called him back, but he insisted and rushed for one more turn. In that eleventh round, the front tyre collided with a big stone at the bend of the road and the cycle turned towards the steep... Ajeet pressed the brakes to no awail as the wheels were rushing madly on their own accord... He fell from the cycle and tumbled over rough stones into a pit .His new cycle was smashed to pieces as well as most of his bones.His disobedience and a petty greed landed him in hospital and made him devoid of his dear gift.His friends felt bad for him but Ajeet had learnt his lesson.
A picture of Happiness for the topic of Self -Satisfaction and Self Pride.
The book has 14 such topics and many interesting stories. it makes fro an easy and breezy read fro adults as well as children.The book has the Hindi alphabets made in a style different from today's so is vintage :)
Manners and Humility
The pictures show people from a different era .The faces in the book present a sense of calm and serenity.The lovely ladies with long,shiny braids and sweet smiles make a pretty picture to look at and enhances the rich content making the book a pleasant read.
Goodness Of Mind and Virtues
There are chapters, incidents and quotes which will definitely ask for your time and provide you with points to ponder and topics for reflection and contemplation.
From the story 'Annual Day' emphasizing about inner happiness and beauty.
It is a thought provoking book which nudges you gently. It tells us regarding our own behaviour with others and the example we are setting for our children, our expectations from them and how to achieve them.
It emphasizes that its our relationships and the way we deal with the world and life in general which makes our child the way he/she is.
And the book is remarkable for the gentleness of its tone ,another vintage thing in 2014.
An ought to be read book and a MUST to be applied one.
you can find the book HERE