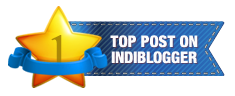 Book Cover : In high Resolution :)
Book : Beyond School
Author :Chitra Anand
Category : Fiction
Published By : Leadstart Publishing, Frog Books
Year : 2014
Price : Rs 124
Pages : 201
Book Cover :
Apt
ISBN
-10:
9383562404
Ratings : 4/5

From a plethora of books, there are only a handful few which grips us, right from the first paragraph.
'Beyond School' does this effortlessly. In fact, 'Effortless' is the word synonymous for it but considering that the author might have issues over the word which claim(though it does not) her hard efforts to be effortless, spontaneous seems better :)
The author deserves accolades for her style of spontaneous and natural writing.
She not only showcases the life of her protagonist Shail - a 17 years old but, of each and every character in the book. She had made a
mere glimpse into their lives far richer than verbose chapters after chapters churned out by her contemporaries.
A remarkable feat.
THE BLURB -
Beyond School centres upon the weeks leading up to 17 year-old Shail's final board exams, as his world becomes a pressure cooker and the weight of exams sends him fleeing rebelliously in the other direction.
Along with Shail's journey from boyhood to manhood, beyond School vividly weaves between the narratives if four main characters,seamlessly uniting the past and the present of Shail and his mentor Gladys, in a story that is honest, funny, heartbreaking and ultimately incredibly human.
MY REVIEW
I was not exactly raring to read about a 17 years old's secret, conflict, girlfriend stress, a desire to be in Manchester United... and all that jazz.
But, the first chapter caught me off- guard. It was different, deep and sets the tone for the rest of the book.
It made the reader realise that 'Beyond School' is going to be an emotional and understanding journey with
less words
and more undercurrents.
In a book divided into 36 chapters and of 200 pages, the author has dealt with almost every issue under the sun from Board exams - a BIG thing in an average Indian kid's life,
the girl-friend - the indispensable yet most suppressed topic in the life of the same person,
the issue of mobile phones and gadget usage ,
the lack of communication between child and parents,
the IMPORTANCE and role of a mentor teacher
changing social norms,
generation gap,
need of understanding by parents
The anxieties of parents, the pressures of teens and many more topics...
THE WRITING STYLE
Is breezy and seamless as the story moves from one character to another.The writing is simple, spontaneous, easy to read yet not colloquial which makes it a better.
CHARACTERS
needs special mention as there are lots of them considering the page-count!
And yet, the author managed to make them so honest, in-depth versions of them, with each having a story of his/her own which is told, without your even realising it.
Very cunningly the reader is dragged into their lives on pretext of chapters named Ma, Dad,Father Spy... so you feel as if you are reading about Shail's Ma, Shail's dad while in reality, you are getting the slice of life from Urmila and Sushil Abhyankar's life!
The book captures the contradictions of teen-student's life in a nutshell.
I LIKED-
One - Its a book written with sensitivity ... Every word exudes sensitivity, softness,towards children, conflicts,desires,the fragility of life,dreams and relationships.
Second - It deals with the psychological aspect of every action with utmost clarity and
stresses upon not to be
judgemental.
Third-
Urmila's reaction and subsequent decision
regarding messages
with sexual overtones,
between Shail and Shruti.
Fourth - Shail realises
Aaron's Dad loved him
- it was just a different way.
AND -
Glady's Father. A character who stood out shining amid other grey and white ones. A worker, operating gear-making machines at Premier Automobiles for livelihood, who wanted to name her daughter Nargis, he was father-genius, father-brave and father-best a blessing! He is immortalized here. Not only Glady's, he is my HERO too.
VERDICT
Its a
MUST READ
book for parents and children ALIKE .
..which makes it for ALL.
ABOUT THE AUTHOR
Chitra Anand was born in Mumbai. She is a postgraduate in Physics with an Education degree and Beyond School is her first novel inspired by her journey as an educator. To know more about her visit her
SITE
PS.sst On page 14, Shail's mother is introduced as 'dark but beautiful' which I thought ought to be 'dark and beautiful' and as the author was introducing her to the readers,I could not see it as a character's impression. Though its fine, still I mulled over it ..
Copies Available at all online stores:
Know More Inside Stories, Connect with The Author:
Read the book? Write a review on Goodreads:
"This review is a part of The Readers Cosmos Book Review Program. For details log on to
thereaderscosmos.blogspot.com
"
Get the Book and its Review -
Goodreads
Amazon
Flipcart