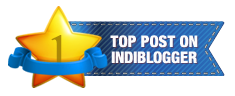 I was introduced to Haiku in late 90s,1996 to be exact.
One of my mother's student-turned-colleague used to write these occasionally for the school/college magazine.
I was not impressed as, for me, those lacked soul. A
fter reading Haiku here at blog-o-sphere by
Kristjaan
,
Maniparna,
and
Nimi's
I was proved wrong. Then I went on to read the great haiku poets Masoka Shiki, Basho, Busan , Issa, Ryokon ...
Now,I know that, the lacking was perhaps, in the writer (my humble apologies)or more probably, in my interpretation and understanding but not in the form.
I can see that much can be expressed in its few words.In-fact the limit provides a challenge as to play with words, to
keep its soul and beauty alive emerging thus, as a beautiful token of feelings. Its a Japanese from of verse where
Haiku makes the mental image born out of few lines brilliant in contrast to the restraint of words.
Hoping that the aforementioned person will not see this and the more yet to come.. er... pour.
Here goes the first one -
raging
wind moans slow
howls and whirls in biting cold
ringing knell of death
(Inspired by Chevrefuille's Haiku-blog)