A Beautiful cover with the handmade
Bookmark.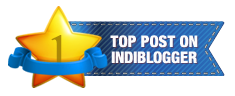 Book : A History of Insects
Author : Yvonne Roberts
Genre` : Coming of age
Year :
2000
Cover : beautifully symbolic, Loved it.
Ratings

: 3/5
Nine-years-old, Ella
is caught amid the pretentious world of grown ups and found it to be sham and full of hypocrisy. For her, the adult behaviour is confusing and contradictory.
She is lonely as her relation with her mother is far from good.The only sunny rays are 'Uncle Ash', the Pakistani Brigadier Ashraf Khan, the American lady Betty and the very ill, soon-to-die- Tommy.
Later, in the story, when Ella is send to a hostel she met Zuhra, Miss Patterson and Dr Mac.
After gaining new insights in the matters of religion and sin, Ella loses her voice and was brought back by Betty to Peshawar for the summer holidays. How she got her voice back in more than one ways marks the end of the story.
My View-
Set
in early 1956 when the last of the British Empire was struggling to hold its place in Peshawar, Pakistan, Ella, the 9 year old daughter of Bill Jackson, the 'Morse Man' of British Deputy Commander, becomes witness to the troublesome times of social,political and personal unrest.
As her father is the 'code-man' who translates the delicate Morse coded information send
from Abbotabad
to the British High Commission's office in Peshawar and hence, lives in the compound of the
gated British community of 4-5 families and a handful of native servants, she is confined to its walls . She soon finds a secret garden to there soothe her senses thus, keeping her fertile imagination running wild around it.
She becomes aware of the ongoing sexual conflicts and the social unrest in a place brimming with racism, class hierarchy,treachery, snobbery, secrets and lies.
At such turbulent phase, her diary is her only solace, a requisite to live, analyse and understand the strangeness of life around her.
Confused and somewhat embarrassed by the quirkiness of adult behaviour, their codes of conduct and double standards, Ella promptly makes her journal a secret one and
it becomes a secret book labelled as 'The History of Insects' to avoid undue attention. She had learnt it the hard way that if you label your diary
'Private'
and
'Keep Away'
adults are bound to open and read it while pretending it to be something as boring as '
The History Of Insects'
no adult will touch it even when it is in plain sight !
She pours her heart in to it to her heart's content about things which confuse, enrage and disturb her. Most of the entries were triggered by her mother Alice Jackson's strange ways in dealing with her only daughter Ella and life in general.
WRITING STYLE
There is
something amiss here.
Am sorry to say this but though the writer
writes with clarity,she lacks pathos and wit.
Not a single witty character or lines to lighten the mood.
The writer is lucid, correct in language and interpretation and in creating situations but they all seem .... incomplete . After each situation, the reader is left with a sense of 'adhurapan' - incompleteness ... no single event reached its end ... except that Shafi is executed (wry smile)
So many loose ends-
What is the secret if any was their in Noel playing with toys?
What about the broken leg of Noel's toy horse?
What Dr Mac did rather not did ?
Why Alice changed suddenly.. in hardly an hour ?
And lastly ........... the somewhat ambiguous end .
I felt like leaving Ella in a lurch, with her decision of not growing up . Ever.
CHARACTERISATION
Is
Excellent.
The writer has etched fine characters out of facts and figments of imagination and observation. She has also managed to create that troubled sense of impending doom throughout the book .
But again, the characters - all of them , finely etched, carved , mouthing well-formed dialogues are devoid of LIFE.And i
t's this lack of life (which is there even in the lifeless) that mars the book .
ALICE'S character is a mother who lacks that source of feeling which a woman has as an integral part of her physiology . No doubt, her past experiences had shaped her the way she is but she could have made life a cheerful place for Ella and Bill both had she just tried !
Too occupied in keeping up with the Jonses she missed out life's little pleasures and the
knowledge of it made it hard for
her to accept her faults thus making life miserable for her and those related to her.A
t the end of the story, Alice is changed without any apparent reason or explanation and without making her any better .
MARJORIE and SYLVIA are the other two female characters who show a passive interest in life expecting fun without work.
While BETTY and BLOSSOM are the ones who chose to take the active part in life.With their own share of troubles and lows,they are involved in life and though they have acceptance regarding fate and their choices yet they keep working on it ...
All the wives of the story are real fine characters including the blink and the miss performance of the poised, sheathed in a pale-linen dress,
strikingly beautiful
Mrs. Faryal Afridi Khan.
Read it for her.
REASONS
Though mentioned earlier I am writing again to make my mind as well as your head clear.
GOOD
The book is
- engaging and fresh as Pakistan as a background is new for me.
- has
good narration
- fine characterisation,
- correct, crisp language ,
- proportionate description
-
the rich cultural back
- engrossing wives and
- enough secrets ...
BUT it lacks
- that lyrical flow,which is there even in disasters..
- that beauty which shines even from sadness and
- that music of melancholy .
Over all, it lacks zest, spark, in one word - Life.
It has that intricate pattern of marriage and love... self-respect and loneliness, the sad, insecure, yearning for a better life n love wives, courage, and cowardice .... all embroidered on the already rich tapestry of British-Pakistani-Sikh-Muslim-Indian-Americans cultural presence with The Ruler and The ruled relation on the fringes.
With such a rich premise and a protagonist with a fertile and curious mind, you simply mourn for the waste of the potential.
VERDICT
Bland .Engaging.
Despite myself I loved it !
If something can be good despite being bland then it's this book.
So, an engrossing read with that little something amiss which could have turned it into Beea...uuutiful ... Sigh!
My Goodread Review
About The Author
Yvonne Roberts is an award-winning journalist who has worked in TV and newspapers including The Sunday Times, the observer and the Guardian.She grew up in Pakistan in the 1950s and is an author of non-fiction and fiction books.
You can find her
On Linkedin
On GoodRaeds
On Twitter
And buy the book from
Amazon
Flipcart