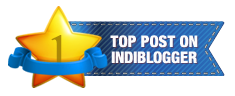 nose-pin pearls glow gleam
in ruby lips' reflection
like pomegranate seeds
beautiful curved nose
decked with shining red ruby
parrot spies parrot
mystified unsure
the bird stays shy and wonders
to pluck , not to pluck
These lines tells about the exquisite facial features of Urmila (Laxman's wife). Here the beauty of Urmila's perfectly arched nose and the red bloom of her lips is presented by describing the thought process of a puzzled parrot thus, drawing the picture without touching the object of admiration!
These lines are by Maithili Sharan Gupt .
The prompt 'Ruby' by HaikuHorizon inspired me to translate these beautiful lines as haiku.
नाक का मोती अधर की कांति से
बीज दाड़िम का समझ कर भ्रान्ति से
देखकर सहसा हुआ शुक मौन है
सोचता है अन्य शुक यह कौन है ?
अधर - lips
कांति - luminescence
बीज - seed
दाड़िम - pomegranate
भ्रान्ति - dilemma
शुक - parrot
मौन - quiet
"In the red reflection of Urmila's lips , the pearl of her nose-pin seem like a pomegranate seed, confusing the parrot who thinks her nose as another parrot having a pom-seed in its beak."