The Book with the heart
bookmark made by me :)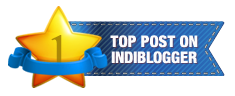 Book : The Case Of The Chinese Mastermind
(The Crime Busters' League)
Author : Ketaki Karnik
Genre` : YA Fiction /Mystery
Publishers : Jaico Publishing House
Year : 2014
Cover : Childish
Ratings : 3.7/5
How will it feel to go back in childhood and have a mystery ala Nancy drew style to solve for ? Smashing ! You would say and that's what the book is - S.M.A.S.H.I.N.G .
THE PLOT
With Uncle Ravi's valuable papers stolen and his company refusing to call in the police,its upto 14 years old Kavya,Raima,Varun and Anna to solve the mystery.
Uncle Ravi's reputation and hard work is at stake and perhaps some lives too ..... as a blood-thirsty monster, a killer car, rogue spies, muscular henchmen,plotting friends, crooked officials,corporate espionage, blackmail ,theft, guests and servants in disguise .... are only few of the things to be taken care of .... in that very secluded farmhouse .
And to top it all a very much harried Pinky Aunty to deal with! And not to forget that
Pinky Aunty's farmhouse was once a haunted abode of the king of Patiala.....
Will the four friends succeed in busting their very first crime mystery ...
Will they be able to evade the life threatening danger they are in ? are just some of the questions they are facing ....
MY ANALYSIS
Except for the rather bumpy start, I thoroughly enjoyed the book.
Its ideal for a 9 year old ,a teenager looking for adventure as well as a stressed out adult .
Such books which suit so many sensibilities are rare so there's no beating around the bush .. its a winner friends.
LANGUAGE
Because its target audience are young adults and children, the language is of utmost importance and am glad and beaming to say that our wards can read it without any parental guidance in this particular area .
WRITING STYLE
The book opened on a rather verbose note for my tastes but after two and a half chapters it gained momentum (Or I got adapted to it ..) and the long adjectives and similes were spared which otherwise followed each character and its each gesticulation like ghost attendants and water boys scuttering around the characters in question, applying - oh! now a dab of powder and here!just a dash of rouge and now another coat of mascara and now ............... well you got the drift .
Though I MUST mention that each and every simile and adjective is authentic , witty and unique . I quite enjoyed them only they hindered the pace, which is too frantic in the first two chapters !
I loved the witty narration as wit always gets me .
Sample it -
Page 22 , Kavya the 14 year old reflects
"I walked upto the car. there's a fine line between bravado and stupidity, I remembered reading somewhere. the truth is there is no line - it only depends on the outcome. If you succeed , you're brave. If you don't...."
And this -
pg. 66 , Kavya the 14 year old child observes
"It was the first time I was sitting with Prof. Fernandes from this close. He had this ultra-serious demeanour about him- the kind that proclaims 'don't talk to me unless you have a PhD and have atleast made two noteworthy discoveries '...... I decided some adults are just born adults."
At moments you may find yourself at splits despite yourself. So,
Overall its accolades for the Writing Style .
CHARACTERS
Are well crafted and nicely drawn.Their traits,motives and menace is well depicted in so few pages and so much to write about.
Umm..
Well it is for these two unanswered questions -
What about The Rameshwarans' curiosity ?
Why was Rhea Sabarwal looked menacingly at the Glass Safe facade when she did not have any grudges with Ravi ?
AND
the insipid Cover and the Title ... There are plethora of awesome covers with (kiddo graphics too Here and Here ) which could have done as smashing a job as 'smashingly' Ketaki Karnik has written the story.
Here are some of my favourite examples intriguing, mysterious and nicely sketched
Ditto for the Title.. it ought to be cryptic not misleading or meaningless as there was no Chinese connection in the actual theft !Grrrr....
VERDICT
Recommended. Go for it !
About the Author
Ketaki Karnik a MBA from Oxford roller-coastered through management consultancies and corporates and writing the next Crime Busters' League only kept her sane through all this .
To chat with her live on the13th of Dec 2014
Here
Find more about the book
On Facebook
On Twitter
Buy Amazon Kindle Edition
Buy on Flipkart