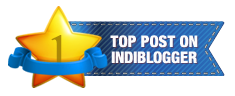 Agatha Christie can rarely go wrong with me. This time is no exception especially as the
book is a Christmas special with a foreword by the Mystery Queen herself -
"
This book of Christmas fare may be described as "The Chef's Selection." I am the Chef!
There are two main courses:

The Adventure of the Christmas Pudding

and

The Mystery of the Spanish Chest

; a selection of Entrées:

Greenshaw's Folly, The Dream, and The Under Dog; and a Sorbet: Four-and-Twenty Blackbirds
."
What a yummy foreword! I was really excited and
was surprised to find that the book has six stories rather than a single one. All of them are good though I have my own share of reservations for a few.
'The Christmas Pudding' has a Ruby to be found,a deceit to be uncovered with a few prestiges at stake.And all this amidst the joyous and cheerful atmosphere of Christmas .
In fact it offers such a bonhomie environment filled with festive cheer that one can almost 'see' small bunches of red ribboned holly leaves adorning the mansion and 'smell' the baking and and cooking going on in the big kitchen.Well, the 'little grey cells' of Poirot worked nicely here .
'The Spanish Chest' has an alluringly attractive heroine, a murdered husband , accused lover/s and prejudiced women around her as the central figures. Who said that Ignorance/Innocence is a bliss? It can be fatal .Avarice,contempt or jealousy ...what was it ?
'The Under Dog'
has again an ill-tempered master, murdered quite conveniently for the benefit of more than one persons... It was a bit stretched out and lengthy and I never liked hypnotism as a tool in 'actual' investigation. May be to create an atmosphere to create a trap but to actually rely on it is a let down. (like in movie Bhool Bhulaiyya where witchcraft was a facade for a reason)

'The Four and Twenty Blackbirds' has a chance incident working as a trigger for the investigation of an accident which later turned out to be a murder. It's possible but, the mistake the culprit did, was a little too lame for the mind he is shown to possess. So again .. I was a little dissatisfied.
'The Dream' again has a murdered master who was bad-tempered when alive and not mourned when dead.The case seemed plain enough to veteran readers like me (ahem-ahem) though for greener readers it might be interesting. The wife's character needed more detailing and a few more paragraphs to pique up one's interest in her or vice-versa. She was too easy an option to be doubted upon.
'The Greenshaw's Folly' was way too far fetched and fantastic for me and lacked that beauty of narration and description for which I am her fan. It along with 'The Dream' also lacked the layered characters and was more of an imagination gone wild on Miss Marple's part . Though of-course weeds were a great clue ! No doubt Miss marple drove Inspector Welch a bit crazy!
My POINT
So all in all the stories which I don't like much too have unused potential. It seemed as if Christie was in a hurry to finish these off and thus, she did not let these reach their natural high or low. The last two specially seemed stagey ..a word she had used so well in 'The Dream' !
But as always, even when she is not good , she is better than many and I loved the opening scene of all barring the last two.
So, with a little something here and there these 6 stories manage to keep the Christmas spirit intact that is to be jolly,fun and full of surprises.
Verdict
Buy it and find it lacking ... Better wait till someone gifts it to you ..and you might find the pudding irresistible :)
My Rating : 3/5
PS. Despite everything I enjoyed it . It was a gifted to me by
Ravish Mani
:p