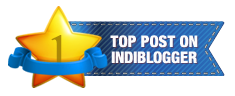 -When a child observes a parent lashing out on the other,witness plates crashing and silent crying, its bullying that he's observing.
-When a dusky bride is told pointedly not to wear pink ..its bullying.
-When a fair bride is laughed or questioned at wearing orange - its bullying.
-When people at her new 'home' make fun of her for being too educated/less educated, too shy/too confident .. its bullying.
-When a child is called names for a silly mistake by own family and close-friends repeatedly, publicly - its bullying.
So, who says bullying starts in playgrounds ?
NO.
Much before than that, bullies are created in their formative years .
Like charity , bullying starts at home.
SCENE 1
I was a witness to it.
A doting Grand-mum (she keeps the grandson from 9 to 4) and a loving uncle jokes repeatedly with the two year old "See,h
ow your Mom is, she leaves you alone ,while she goes out all dressed up ".
In the guise of harmless fun they are brainwashing him ... taking their chances that if not brainwashed at least something they would manage to mar.Some emotional weakness they'll be able to instill.
The lady discuss the mother's vices to her heart's content,weep in front of neighbours with the child in tow about her evilness and always ends the lamentation with
"Its no fault of this poor soul that he is her child so I love him the most"
followed by a torrent of kisses.
The lady used to teach the child to run errands for his uncle and NOT for his working parents. Picking shoes for an elder is not wrong but if the child is made to do it furtively, for a specific person and is rewarded with a balloon for it, its rearing of a slave.Far worse than actually having a slave.
Her face would beam with pride when the child would say to the mother
"you are bad"
and when one day, the 2 and half year old child actually kicked his mother saying
"you are not my mother,I will not call you Ma"!
That Grand-mum had actually told me this with an obvious relish " My grandson loves me and his uncle the most.Arrey ..bachhe Ishwar ka roop hote hain... innocent .His 'loving' us more over her says all. Isnt it? "
Indeed !
All this for some twisted reason which atleast I was unable to fathom.
On growing up a little ,that kid did miss that unconditional and unselfish love of a mother, but as his still young mind was not mature enough to see through the tangled psyche of elders and the family politics, he slowly turned out to be a bully to her cousin sister, inviting slaps and kicks from the uncle and b
y the time he was in class three, he had become so habitual of that domestic drudgery, that slavery in the name of love and gratitude that he seemed at ease in that atmosphere.
For me this family bullying is the most cruel form of bullying and the products of such, the most dangerous bullies.
SCENE 2
The jobless father dies from excessive drinking. On that fateful night the wife,a working women, also studying for higher studies as better pay is needed for their three children, had denied to accompany him to a family function and he had to go alone.She had said in mild but firm tones in front of every-body, "Its disgraceful to dress-up and plaster fake smiles when we don't have a penny for our kids."
Mumbling, he had left . In the morning, h
is corpse had returned
.
One months'
wails and cries later, the youngest of those three kids,a 6 year old boy was visiting 'close' relatives - those who helped with a few thousands for his father's last rites.
He was given a glass of milk to drink with as much emotional ceremony as if it was a glass full of elixir shared with him followed by affectionate lamentations ranging from "This delicate poor boy has to pay the price of his mother's pride. "
She is a haughty lady .
She never loved or respected her husband.
Too much education . Job ka bhoot, she had tasted freedom...
and ....look how God has eaten her pride"
The tremors of the milk glass were evident perhaps to my eyes only and I am sure that day the milk must have tasted a little salty to the boy.
Later, the child was subjected to slaps and punches as play-fun and had to polish shoes for his school going cousins while he waited for the collection of the admission fee from various quarters of kind family members.
Much later, when he, still chubby and dressed in a white kurta-payjama a size too loose for him, brought a glass of Rooh-uf-za for me in a tray , it was hard to decide what I was gulping down sweet rose water or my salty tears.
One of his kind cousins was my classmate.It was 2001.I don't know what happened to him except that he turned out as a violent person.
Its seldom, that such children grow up to be compassionate and understanding.Mostly they give back to the world what they had received - cruelty.
So all of you parents out there,
before you step out of your home for work,
please ensure your child is in safe hands of a
sound mind
and all you nanis, dadis, buas, mausis, chacha-chachi, tau-tai and mama-mami - the unofficial unpaid babysitters of India on whom we, working women trust ... let's not become savage brutes.
Lets not burn childhood in the chagrin of our failures, dejections and our crashed expectations ... let's not vent our frustrations on innocent babies and children .Spare them .
They are as delicate as dewdrops on flowers, as eager as buds in process of blooming ...
Don't donate money, don't spare time.... compassion is enough.