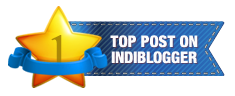 Image : Aster on roadside in Kodaikanal (By me :))
Far away in a shade brown-green
stands a flower quite pristine
fit for an arbour of a queen
or, to be a part of a garden scene
It stands there pacific and serene
with just some weeds to share sunsheen
its purple pinks with golden gleam
pose innocent smiles which go unseen
yet its so happy to flourish there
its shrub is laden with its dainty fare
The star of frost with a deep pink glare
is gently moving in the balmy air
Bucolic in its purple glory,
charming white
streaked lavender bloom
apprises us on patience and bliss as
it waits to be crushed and burnt
for fumes
Far away from the maddening crowd
from evanescent cheers and accolades
It teaches rapture in solitude and
how to be humble and stay blessed !
I have been tagged by my friend
Maniparna (tonnes of thanks )
to take part in Five photos Five stories Challenge (FPFS) which is- Post a picture for 5 consecutive days and attach a post to it , fiction, poem or short write-up.It can be anything to suit your taste.
I am tagging my sunshine girl Shweta
on Day Two and as a part of the challenge, I will tag a new person on Day Three.